Automatic Mouse Clicker MWW Tutorial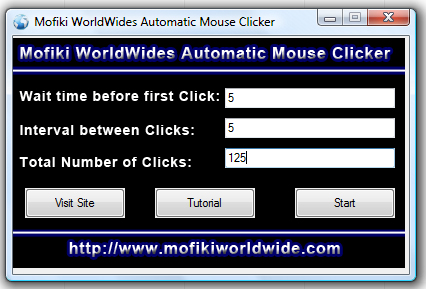 Wait time before first click - How many seconds to wait before the program starts clicking for the first time.
Interval between clicks - how many seconds to wait between clicks
Total number of clicks - how many times the program will click your mouse button.
EXAMPLE:
If you fill in the input boxes like they are in the above screenshot and press start the program will:
Wait for 5 seconds then click your left mouse button.
Wait another 5 seconds and click your left mouse button
It will do this pattern 125 times
Leave a Comment Below
Please keep in mind when leaving a comment that this Automatic Mouse Clicker MWW is meant to be simple with just basic functionality. Please do not leave function requests as a comment. Please use our contact page to request functions to be added.
Comments on Automatic Mouse Clicker MWW:
Automatic Mouse Clicker MWW
very good
comment left by s m a u p banda on 2011-04-08


Automatic Mouse Clicker MWW
Sounds good to me!!
comment left by Phil Ritzi on 2011-02-08


Automatic Mouse Clicker MWW
cool
comment left by Ivars on 2011-01-20


Automatic Mouse Clicker MWW
Thanks that program just put in first in the push the red button on facebook seing how many times you can push the mouse button in 10 seconds lol
comment left by Jamie-V-George on 2011-01-06


Automatic Mouse Clicker MWW
Finally, a simple program that does exactly what you expect it to do! Easy to use, and can automate some tedious, time consuming tasks so you can walk away and get something else done while it does the work for you. Love it!
comment left by Ron Roy on 2010-12-16


Automatic Mouse Clicker MWW
Looking for a free mouse clicker
comment left by roythreet on 2010-12-14


Automatic Mouse Clicker MWW
excelent in a potfarm game !! easy
comment left by rebewde on 2010-12-02


Automatic Mouse Clicker MWW
Like the program a lot. Is there anyway with this the user can change the default amounts that appear in the opening png? That way when a user figures out the best speed for his computer, he can set his own default.
comment left by AJ Suter on 2010-11-23


Automatic Mouse Clicker MWW
Very handy little program. It would be great if it didn't close after each use though.
comment left by Mike on 2010-10-22


Automatic Mouse Clicker MWW
nice program
comment left by yiorgo chilas on 2010-10-17


Automatic Mouse Clicker MWW
Fantastic program. What's the max speed it can click? Great job!!!
comment left by Skiznillett on 2010-10-04


Automatic Mouse Clicker MWW
how can i set the program to click 4 times per second... ie: 0.25 seconds between clicks? this is a great program.. thanks for allowing us to use it...
comment left by bob johnson on 2010-08-31


Automatic Mouse Clicker MWW
hay you hava a neobux auto clicker
comment left by Babar on 2010-08-21


Automatic Mouse Clicker MWW
very good
comment left by james morrow on 2010-08-11


Automatic Mouse Clicker MWW
What are the hotkeys? I would like to be able to turn this off and on without having to wait for the number of clicks to run out.
comment left by David Schuler on 2010-07-26


Automatic Mouse Clicker MWW
This is very nice... When I want it.. I just search from Google... Then I found Mouse Clicker MWW.... Thank you very much for giving this free.. God Bless You all...!!! Thank you very much...
comment left by Milan Lahiru on 2010-07-21


Automatic Mouse Clicker MWW
i am trying to download this thing
comment left by Ann Jones on 2010-07-04


Automatic Mouse Clicker MWW
good job
comment left by Andrade on 2010-06-08


Automatic Mouse Clicker MWW
very good
comment left by zanafill on 2010-04-11


Automatic Mouse Clicker MWW
That's fantastic.
comment left by martin andonov on 2010-04-09


Automatic Mouse Clicker MWW
This is a very limited program although it does do exactly what it says. While looking online I seem to have found another one that I think the same company makes. Its called Mofiki's Autoclicker Premium. You can google it or find it at http://www.mofiki.com. Thank you for this little free autoclicker.
comment left by David on 2010-03-31


Automatic Mouse Clicker MWW
Please feel free to ask any questions or leave comments here about our automatic mouse clicking software. While simple it is lightweight and standalone making it ideal in the event you need to click your mouse on the same spot over and over again. Thank you for your comments in advance.
comment left by Brandon Orndorff on 2010-03-31